In 1995 we set out again from Fairbanks.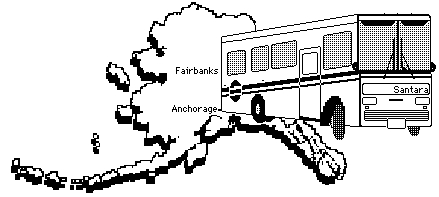 This time in a larger RV we'd purchased in Phoenix just days before heading back to Alaska in the spring. The Coachman Santara was a 35' Class A unit with every amenity from washing machine to back up camera, multi-CD player to 7KWH generator. We had room to spread out! The cats were happy too!
More Than a Dirt Road to America:
The Alcan seems like the longest driveway in the world! Last year it seemed a dreary and tortuous drive. The sights were amazing and we learned a great deal about the Yukon Territories and northern British Columbia, but major sections of the road were under repair. This year the repairs seem to have been affected and the drive was pleasant. The weather was good, the RV ran smoothly. It was a jolly good experience. It is unnerving on occasion, however, that highway construction crews send travelers down the road toward the construction, where scrapers, 75-ton dump trucks, and other omnivorous machinery lurks, without so much as a pilot car. I was thinking of asking them about a pilot car but suspected the response would be "What? You must be nuts! We're not sending our equipment down this %$#@ road!"
Rest assured your U.S. dollars are continuing to go into huge permafrost sink holes in the right-of-way near the Canadian border. Our hearts go out to the Project Engineer who, unlike his urban counterparts will not get to point to a nice interchange, an elegant bridge spanning crashing waters, or even an overpass, and say "I did that." The engineer on this road will have to know in his heart that he directed the removal of hundreds of yards of prehistoric muck, and back-filled the resulting chasm with foam insulation, fabric, and different dirt, so that it would look and work normally. Too few will appreciate the accomplishment if he is successful; and every road-weary RV-er will know if he was not!
The trip across Canada was worth the effort. Having studied Canadian history in high school while living in Victoria, BC, we enjoyed the vast expanses of the Canadian prairies, small and medium-sized farming towns and the Trans Canada Highway (Yellowhead Route) to Grand Portage, ONT, where, as much as we like Canada, we gratefully reentered the US. We covered hundreds of miles of prairie which was rich with history, lots of quaint farms, too few dump stations, and too much CBC (Canadian Broadcasting Corp).
Here we are, once more on the road seeing this wonderful country, and, uhhh... oh yeah! Missing another Alaskan winter!
This year we fancy that we know what we are doing. At the end of last year's trip we traded up, buying a more commodious vehicle, with a few more amenities. Our goals remain the same. We find ourselves facing a window of opportunity which Melody reminds me could close at any moment depending on various socio-geo-economic factors which any Baby Boomer with aging parents, kids in college, and a need to work for a living will understand! Nonetheless, we feel blessed in some manner to have this opportunity, and the chance to share it with friends.
We realize that at this stage in our lives many of our peers and cohorts are still raising families. It is an act of raw courage, and a huge challenge to raise a family in the 90's! It is perhaps the single most important task anyone can undertake - to prepare the next generation for this brave old world. We stopped in Anchorage to visit my brother, who is busy being Mr. Mom to his oldest daughter while his wife and two youngest are in Oregon completing her graduate studies. A HUGE job for both, to work hard for a future.
Meanwhile, Heather is working at a bank in Fairbanks and rethinking her academic and professional future. She spent part of last spring and summer as a bartender and apparently concluded that while the money was pretty good, the barflies in her particular watering hole generated enough cognitive dissonance that the job was more than a little discomfiting. So, onward to banking. She is enjoying having her own apartment this year, so we have arranged for two bright young business students to house-sit our condo.
With the condo occupied, we moved into the RV a couple of days early - good time for shake down before we set sail south. My employer generously let us camp in their spacious parking lot. It is interesting being a tourist while working in the visitor industry. It reminds me of the days when I owned a business and periodically sat on the other side of my desk in an effort to see what my clients were seeing. Insights abound. We find it fascinating.
This year on the road is different from last in several ways. We are exploring what it takes, in the last half of the last decade of the last century of the second millennium, to stay in touch. Our equipment includes a cellular phone, a Macintosh Powerbook 520c with modem, laser quality printer, CD-ROM player with software capable of mapping most US cities down to the city block, HomePhone with 80 million U.S. phone numbers - which can locate and verify an amazing number of lost classmates, relatives, and friends. Once again Remus the Himalayan - now with his grouchy 15-year-old companion, Timmy (Don't-take-my-picture) the Cat -- provide the (very) low-tech counter-point to our exploration.
This is as much a test of things technological as a satiation of my personal delight in things gadget. High technology provides the means to stay in touch with everything from the stock market to friends. Information is power, so to speak, and information, like power, comes in many forms.
For instance, we have found a supplier in Tucson, AZ, which provides (for a price, of course) a toll free number (we pay) where we receive messages and place calls from the road. The beauty of the program is that we stay in touch and we do not need a calling card or home phone to do it (We do, however, still maintain our home number). The service charges per minute, itemized on the credit card of our choice. We receive urgent messages by checking our voice mail. The service also provides fax receiving and relay. In addition, we use the Internet Ð see letterhead. (Oh! We use the U.S. Postal Service too!).
We both had busy summers. I worked as Commentator on the Riverboat Discovery III, which continues to be the most exciting and learning experience I have had in a good long while. Melody was once again with the Office of the Vice Chancellor for Administration at the University of Alaska Fairbanks where she brought the new TQM specialist on-line and up to speed. She is also learning HTML - the language used to communicate eloquently and elegantly (and at all) on the Internet.
Summer in Fairbanks was beautiful ... mostly hot and dry which allowed for some bicycling to work - an effort to save our 163,000+ mile Subaru too much wear and tear! We kept the RV at the boat landing so I had a changing room for work right on site!
Numerous friends and relatives visited this summer, including father-in-law, Leon. His grandson, daughter-in-law, and their kids four generations of her family -- were in the Discovery III wheelhouse for a fun evening tour! The season ran long, which was nice. We left Fairbanks for Anchorage and thence to the Alcan and warmer weather on September 22nd. By the second week in September the hills around Fairbanks were gold with the birch and aspen leaves of autumn. By the third week the leaves were almost gone, but the sun stayed - with unseasonably warm temperatures in the high 70's.
Next month:
-- Big doin's in Cincinnati at the Tall Stacks Festival featuring 18 sternwheelers from the Mississippi and Ohio River
-- A visit to Skanee, Michigan, where Melody's dad haled from about 75 years ago
-- Another visit to Rochester, NY, including wine country and Phil's Aunt Jenni and Uncle Alex The Provisioner!
Steamboatin' History
Wow! We had quite a time at Tall Stacks, a convergence of riverboats from up and down the Mississippi and its tributaries from St. Paul, MN, to New Orleans, LA; Louisville, KY, to Pittsburgh, PA. Tall Stacks is one of those community events which transcends local interests. It involves two states and three communities on opposite sides of the Ohio River: Cincinnati, OH, and Covington & Newport, KY. The boats had stern and sidewheels, colorful captains and crews, period decorations, even steam-powered calliopes, producing a musical racket like a carousel; joyful, yet cacophonous - the steamboat equivalent of bagpipes.
There was history as thick as peanut butter on pilot bread. As Capt. Jim Binkley Sr. reminds me on the job in Alaska, every continent was opened up first by boats. Riverways are highways; and it was riverboat captains and their vessels which brought the numbers of people and amount of equipment and materials necessary to establish civilization as we know it to the Ohio, Mississippi, Columbia and other river systems. Of course the same is also true of such rivers as the Tanana and Yukon in Alaska.
So, to see a collection of the kinds of vessels which were a part of that pioneering time was breathtaking. Imagine seeing boats representing the pioneering efforts of people with imagination and spirit enough to open up this continent. It is hard to describe. Beautiful, graceful, historic. Featured boats were the American Queen, largest sternwheeler (418') ever built (1995); and an excursion and wheelhouse tour on the Belle of Louisville, one of only five steam-powered sternwheelers still operating.
The boats' whistles offered a mournful cry and a distinctive call to adventure. Over a dozen of these voices, played simultaneously at 10 A.M. is a dissonant song reaching directly for our pioneer souls. It was wondrous. Hundreds of thousands of people attend. 10,000 volunteers help out. Highlights for everyone: power grazing the food booths, boat tours, sharing Tom Sawyerville with kids, and the music. There were six concert stages with performances including jazz, Dixieland, old standards with Rosemary Cluny, contemporary country with Confederate Railroad, genuine American folk from John Hartford (a part time riverboat captain and successful songsmith) and Jay Unger who wrote the haunting violin music in the 6-hour John Burns PBS Civil War special. Musical highlights: a duet featuring Hartford and Unger and a Hartford solo of his signature song "Gentle on My Mind." A 5-day passport to Tall Stacks: $15 ...Such a deal!
Hey Dere!
Yoopers: And We Never Knew
Note: A Yooper is someone from the Upper Peninsula (U.P.) of Michigan. A U-Per, get it? Heeeere's Melody: Our search for Erickson family roots led us to Skanee, MI, and the quiet remnants of a (U.P.) town nestled along the south shore of Huron Bay on Lake Superior. We knew we were getting close to the family tree when we dropped anchor at Witz Marina. The owner told us there were "Erickson's everywhere" in that area. In the next two days we linked up with an uncle, five cousins, and tons of rich heritage.
Skanee's heyday spanned approximately 60 years. Established in the late 1800's, it grew into a thriving town based on fishing, lumber and farming. Like so many small towns, the economic base gradually disappeared, the depression took its toll, and most young people, including my dad, moved away. Today Skanee's population is approximately 350, one-tenth of its former self.
My great-grandparents, Swedish immigrants Charles and Louise Erickson ventured into Skanee and purchased an established homestead in 1889. The farmhouse still stands. Through the heroic efforts of Ethel and Ron Kovala (Ethel is my cousin) it is being restored board by board. Also remaining is a nearby house where my grandparents lived, my father was born, and Uncle Irvin still resides. Stories about The Axel Erickson Hardware Store, from which granddad is alleged to have bootlegged booze during prohibition; Aunt Mary's hotel; and relatives now represented by headstones at the Skanee Cemetery, are shadows of another time. They come alive through artifacts in the Skanee Museum (the old parsonage) and an advertisement for Axel's store on the Town Hall stage curtain.
The residents of Skanee, Arvon Township (1871), have done much to preserve the history of the area. As an extension of searching for Erickson kin, we visited Aunt Bernice and family in Coleman, MI, too. Bernice, Amanda, Joe, Jr. and his three lovely daughters all welcomed the "Alaskan black sheep" to the fold!
The entire Michigan discovery was like being wrapped in a warm blanket. I'm proud to have a Yooper heritage. We could not absorb it all during our short visit. Next year we'll uncover more links between the Erickson homesteaders of Gold Creek, Alaska, and Erickson pioneers from Skanee, Michigan.
Driving across the Land
Anticipating Tall Stacks, we took Highway 127 along the western edge of Ohio to Cincinnati. This is the farm belt. 127 cuts south like a dull but effective scalpel through endless corn and dairy farms with clusters of buildings every thousand yards or so - a home or two, barns, corn cribs, and silos. Once again church steeples, silos, and water towers dominated the horizon of the flat, fertile land.
Old barns; large gray buildings with hundreds of cubic yards of storage space teeter precariously, it would seem, still managing to shelter the grain, the equipment, the animals. Such structures seem like shrines on the farm lands. They either have function, still serving their builders/owners, or they are left to weather and fall, a natural demise. Never have we seen them being torn down. Barns are characters on the landscape, often in various stages of collapse, like revered friends dying slow, natural, deaths. Euthanasia is not an option.
Highway 127 connects county seats, all spaced like beads on a chain about a day's buggy-ride apart, from a simpler time. Typical is Paulding: Buildings of red brick, an oasis in the farm country with auto and farm equipment dealerships, hardware stores and other services. Downtown still seems alive, an apothecary, retail stores, and service stations. After winding streets through old neighborhoods, and a stop light or two downtown the farm lands open up again and 127 finishes its jagged cut through the artifice of a small town, to continue its race south.
Trucks pull carts high with corn; mounds of golden corn. Tractors pull trailers with up to 14 sets of dual tires carrying corn, beans, and other produce from field to market, or processing centers.
127 is a main street to a community running from the Michigan border to the Ohio River. The small centers of civilization support churches with spires rising to the heavens. Seen anywhere, but especially in these settlements, they are magnificent edifices raised out of respect for their god. There are small homes, too, and Victorian style family residences in what were, and sometimes still are, old neighborhoods. Ancient trees overhang the roads and drape the air with brilliant fall colors.
In these vast farmlands it is hard to imagine how neighbors have time to gather socially. Yet, there are Kiwanis, Rotarys, Elks, and other civic organizations throughout the area. The communities have friendly rivalries, high school wrestling, basketball and other sports. At the edge of towns signs boast of each athletic triumph: "Home to the 1987 Little League Champions", and the like.
At a rest stop a young truck driver notices our Alaska plates. His brother, father and he drive shiny 18-wheel tankers from farm to farm all morning, picking up raw milk. He meets another driver at the rest stop, who takes that load to Indianapolis while the fellow we met returns to make the afternoon rounds and pick up another load.
Life in farm country. Hard work turning raw materials into consumables to feed millions upon millions of people.
Culture, Industry and Goff
Driving through America I am taken almost daily by productivity. In Cincinnati we saw the headquarters for Proctor & Gambel (HUGE), and Chiquita Banana. At Niagara Falls, NY, it was Nabisco; at Duluth it was grain elevators which would hold the entire output of the Alaska Delta Barley Project since its inception. In Rochester, NY, we learned a little about the social and industrial contributions of my retired uncle's previous employer - Eastman Kodak.
Elsewhere we have seen petrochemical plants and other manufacturing facilities on a scale that only reinforce the colonial aspect of our home state as a supplier of raw materials, a consumer of finished products, and a producer of so little. Something to think about - value added processing. It makes me appreciate the visitor industry and the product we generate.
Meanwhile through the graces of my Aunt Jinni and Uncle Alex we were treated to great community theater (a one-man show call The Working Man, which was hilarious and insightful), a tour of the PBS station in Rochester, a trip to the museum, and what was, for us, a whole new "athletic" horizon.
The horizon was not all that far away, as the ball flies. See, we tried Goff. By more skilled players, it is pronounced "Golf" - a form of ritual humiliation invented by the people who brought us bagpipes and kilts! The object: hit a small sphere with a specialized club, to send it further than the turf (called divots) under it; to get said ball into a distant hole in the ground while avoiding traps of sand, water, tall grass (rough), trees, other goffers, and squirrels the size of small dogs. I am unexpectedly moved by a game where the ball 1) holds still during the swinging portion of the game, 2) was not thrown toward/at/by me, 3) was not required to hit multiple targets, 4) was not being caught by me, or anyone else.
We enjoyed thoroughly that the experience was with Jinni and Alex whose own approach to the game was as "aggressive" as ours (Hit the ball, drag Phil, hit the ball, drag Phil - the punch line to my only golf joke). They are patient people!
Cousin David, wife Sue and three great kids were there. We visited cousin Barb and her great kids in New Jersey; and cousin Lynn and her family are on tap in Texas (Yep!). Alex also reprovisioned us (!) for our trip "beyond the fabled East", south to the Carolinas, Georgia, then I-10 to Texas.
Travelogue
Touring Upstate New York wine country (Finger Lakes) there are countless articles extolling the alleged benefits of the fermented squeezings of the grape. This one stood out: "Two glasses of wine per day for your health is not the same as 14 glasses on Saturday."
November 1995:
The Importance of Family
November was, um, interesting. In a nut shell it included speeding up our journey to arrive Out West ahead of schedule (Yeah, right! Like we had a schedule!) so Melody could attend her sister Gay's wedding, and Brother-in-law Brice's funeral.
The wedding was planned.
Brice and Sandy, on the other hand, were living in Ecuador where Brice was an Engineer for an American-based company. They were hiking on holiday when Brice collapsed and died. Anything we could say would be an understatement. Brice was quite the chap; the best.
Melody was off to Utah for Brice's service, then to Anchorage for the wedding. I held down the fort.
Houston, we've got a problem While I was holding down the RV in Houston, TX, Melody called to say that the grandfather to her sister Sandy's kids had died. Whew!
Melody spent a week attending two funerals and a wedding. A time for reflection. The reunion in Anchorage, under the worst and best of circumstances, was a great time for the Ericksons, where only myself and two of Melody's nephews were absent from Leon's clan. These are the kinds of events which affect us all; more so, and maybe more often, as we approach middle-age. In Houston, meanwhile, my cousin Lynne and husband Bill (and their two neat kids Lisa and Scott) saw to it that I was entertained. They pointed me in the right direction for things to do from the Museum, to exploring Greater Houston. They fed me, shared an Internet connection (with a wicked fast graphics computer) and cool stuff.
Bill reminded me that Houston has no city zoning. It may seem chaotic, but it works. It is different from towns along the Alaska railbelt where communities are less than 100 years old and for the most part were surveyed by engineers before they were built.
Meanwhile, In spite of the fact that Melody and I live in a "wheel estate" with no real estate there were home improvements to be done and I stayed busy fine tuning, cleaning, and maintaining our home.
Houston is an amazing place. While filling my days there, I visited the museum where there is a butterfly house. This place raises butterflies and there are dozens of varieties and thousands of live butterflies in a climate controlled area.
Driving across West Texas there is evidence that there are still vast unpopulated areas of this country in places besides Alaska. This is the Permian Basin, part of the Sonoran Desert, with the Guadeloupe Mountains as the major feature. Just when we thought it could not be more tedious (This is not scenic country) we came to the 5th largest winery in the U.S., St. Genevieve. Yes, Virginia, grapes do grow in the West Texas Wilderness! Texas and the Gulf were just fascinating.
Texas is the home to petro-Mecca, where fuel prices are lowest. East of Houston, Regular Unleaded was as low as 86 cents/gallon; a long day's drive west on I-10, at Ft. Stockton, the same fuel was at least $1.22 (cash only).
The Texas Gulf Coast gets drenching tropical rains. They call these downpours "frog stranglers" because the water rises so fast the frogs, at least metaphorically, get "caught in the squat". It actually rains hard enough to wash your car if you don't mind a shower in the process -- oh, and that pesky risk of being struck by lighting.
Low Country and Coastal Plains
We spent several days in Maryland where Heather's grandfather, Sam, kindly let us park in his yard (and let me drive his riding mower again to collect up enormous leaves from his huge lawn). It is a beautiful locale in an area which has historically been tobacco country, with interesting old barns for drying the leaves of that annoying weed!
Sam was patient in showing us around and we simply had a blast! Next year we'll get "inside the beltway" as they say in that arcane world of the nation's capital. As if we want to share in THAT! But, therein are the monuments, Smithsonian, and other interesting sights.
We got into Pennsylvania where, deep in Amish country, we found Kutztown, where there are a whole mess of "Deishers". We made notes. Alas! It was a Friday, and having had to bicycle down hill six miles into this picturesque little town, we had to bike back out before the big event of the year -- the annual Halloween parade! Next year we will spend more time in this wonderful area.
The coastal plain from the Carolinas to Louisiana is flat and as low as any place I have ever seen. We began to understand why this area is so devastated by hurricanes. It also raises the question: "Why the hell do these people keep building out there on the very shores of the Atlantic? Helloo-oh!" Having seen New Orleans last year we skirted the Ponchartrain and headed north a little to visit some very fine folks we met last year at their winery in Clinton , LA. Mac and JoAnn Cazadessus and their kids use a local grape called muscadine -- the only grape which thrives in the Gulf's clammy climate) and operate the first licensed winery in the state. Last year we searched them out in one of those frog stranglin' rains. We tasted the wine, toured the facility, they made us lunch and we exchanged gifts. This year we showed up on a beautiful sunny fall day, caught the tail end of a bottling, had some wine, caught up on news, had a marvelous sort of vegetable-beef gumbo, picked up more wine, accepted gifts of wine and soup for the road, and after a night parked in their RV hook up (they have one they keep for friends - lucky us!), we headed for Lafayette, the unofficial capitol of Cajun country with its music, food, and a quasi-state religion known as Tabasco sauce.
Shooting corrupts; absolute shooting
We've seen our share of road signs, but one of our favorites is near Gulkana, Alaska, admonishing passers-by: "ABSOLUTELY NO SHOOTING"
Like, what? If a sign just says "No Shooting" then is it not absolute? Like "Take your best shot, but don't get caught."
In Pennsylvania the signs say "No Gunning." Quaint. (But then, it is not "absolute", although we do not recommend annoying the nice Amish folk!)
Coverage -- Columnist Dermot Cole used his column in the Fairbanks Daily News-Miner (10/9/95) to tell his readers about our trip last year. The coverage was neat. Thanks, Dermot!
Some of you may have noticed that our Internet address does not work. We are working on that. A number of people have contacted us through our e-mail address and that has been fun. We cannot always get to a phone connection, but we are finding ways around that and can check our mail at least every 7-10 days if not more.
Giving Thanks
Driving down the East Coast of this nation we witnessed three profound, and chronologically disparate aspects from our collective national history: Evidence of the Revolutionary War which created this nation; battlefields and symbols of the Civil War which saved this nation; and memorials of World War II which shaped, and perhaps saved this civilization.
Along the coast, in virtually every state with a seaport worthy of the name, there were Battleship Memorials of The Great War - The USS Houston, Norfolk, Mobile. Watching 50th anniversary historical specials of that war on TV, lasting hours over several weeks all summer and fall, I felt a sense of gratitude. Though I've never thought about it much beyond required studies and celebrations -- thanks, dad, and Leon, and vast, vast, heroic unknown others. What you did fifty years ago mattered then, and now.
And the answer is...
Last year we mentioned, in a glib sort of way, that this road trip of ours was a quest, a search for answers for which, at that time, we had no questions.
We have visited the settling grounds of our forbearers on this continent, broken bread with relatives we scarcely knew, and found a good deal of joy and excitement in knowing there are other waters from the wells of our origins. That has been exciting and has made this continuing quest not only valuable, but rewarding and worth continuing! We have also shared in the pain of loss, in the joy of a family weddings, and in the confusion of change.
The questions, while hard to frame, now have at least partial answers: Family. People we don't necessarily choose, but who will always be a part of us. Neat.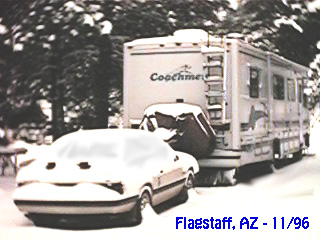 Dang! We had hoped to escape THIS!
"By the 'way"
January, 1996 (Finally, a name for this newsletter!)
Observations from two reluctant colonists
Do you believe in Magic? or There's More to See Than the Light
While the idea of miracles in the Biblical sense seem a stretch, we feel fortunate this season. Melody's father, Leon has had failing sight for some years, to the point where light and indistinct shapes were about all he could see - until he came to visit us in Arizona for the holidays. Melody set up a visit to an ophthalmologist for the day after his arrival so his sight could be evaluated. By noon that day Leon's vision in his one good eye was restored through laser surgery! He went from having to use a jeweler's loupe to painstakingly read essential materials, to reading everything in sight from billboards to our last newsletter, to us! And we were delighted! How does one locate a skilled ophthalmologist in a strange town? In our case I called my father, a retired physician now living in Washington state, who recalled that a colleague with whom he'd worked in the Marshall Islands about 30 years ago still had a practice in Phoenix. We visited with this contact and he recommended a doctor just down the hall in the same building. We made an appointment for an eye exam. Following the exam the doctor directed Leon into surgery. It took less than 10 minutes! This in spite of dire predictions from medical professionals in Alaska's largest city that Leon's vision was most likely uncorrectable.
To facilitate this, and because we needed it, we bought a car to tow.
Modern science is really something. We felt extra lucky because the surgery was accomplished before we took Leon to see the sights around Phoenix, camping and climbing at Picacho Peak, and shopping, ever shopping. So, he got to see things we really wanted to show him during our holiday together. Leon says we can all be proud of our sales resistance! It was fun just looking!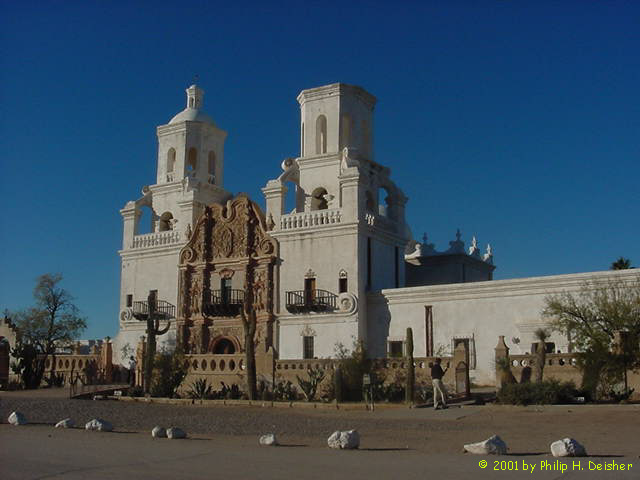 One of the many sights was the restoration of the 17th Century Mission San Xavier de Bac, also known as the White Dove of the Desert on the Xavier Indian Reservation near Tucson. About 10 months ago we saw the mission's interior jammed with scaffolding. While there is still much to be done, the interior is now free of encumbrances and the entire building, representative of not only the architecture but the spirituality of that time, it is a monument to projects which do not have the following of, say, the Sistine Chapel or the Statue of Liberty but are being restored nonetheless.
Nearby there is an area where Indian silversmiths and retailers hawk crafts ranging from simple leather trinkets and T-shirts to elaborate and ornate silver, gold, and turquoise jewelry.
Arizona: Where Alaskans Go to Thaw
It is easy to see why so many Alaskans enjoy Arizona in winter, or in retirement, or instead of the cold! This state is a lot like coming home, but warmer! On Christmas Day it was about 72 degrees F in the direct sun and we drove to our holiday dinner in a convertible with the top down! On the other hand, like AK (Pron: Aaaak!), AZ (Pron: Ahhzz) is a land of extremes. The week before Christmas it was in the 20's at night and in the 60s during the day. The land is dry, yet this is cotton, apple, pecan and pistachio country. The Sonoran desert is rich with cacti, many of which have beautiful flowers.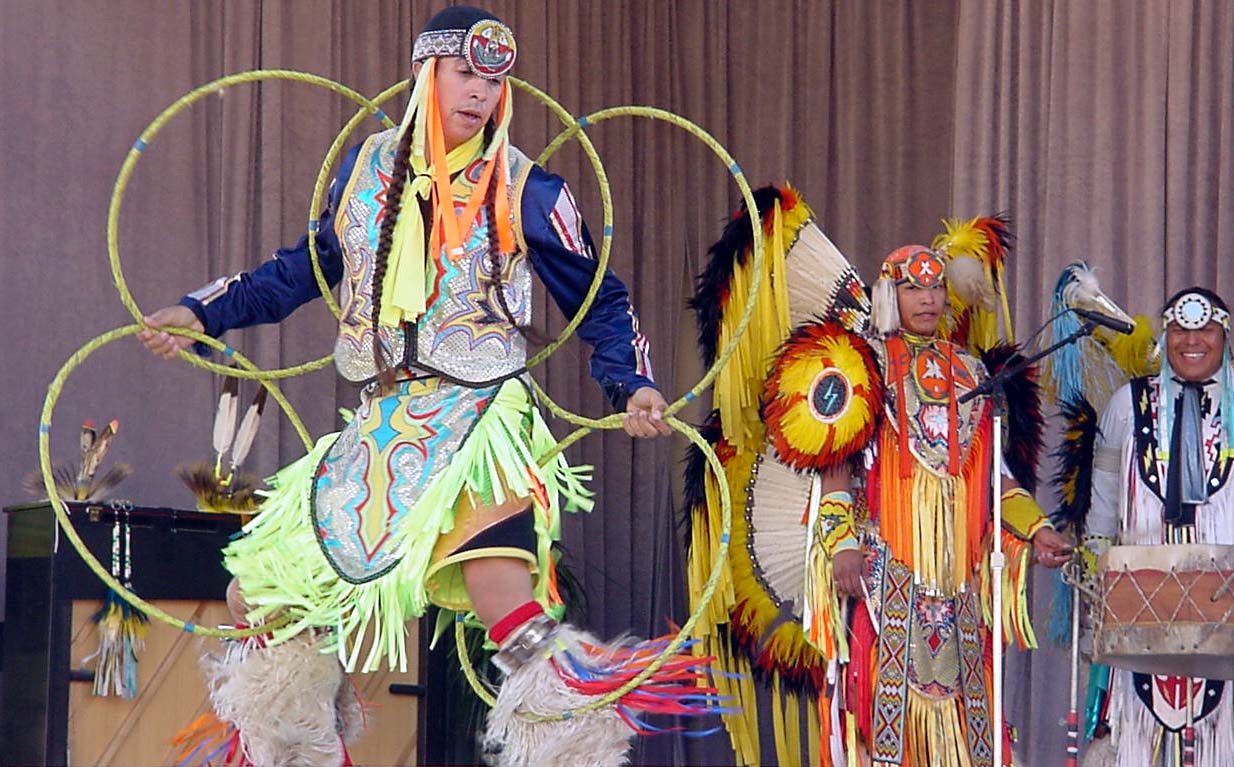 The Native American culture here is rich. The Apaches are related to the Athabaskans -- predominant in Interior Alaska. Their languages have similarities which some of the Indians at the Mission verified. The art work is extraordinary and the legends and oral histories are fascinating.
I believe that the relative mildness of Arizona's climate allowed the Native peoples of this area to create functional items of materials, like clay, which survive longer than the materials used by Alaskan Natives. I think that means that Alaska Native art is intrinsically rarer that the Native art of this area - for whatever that's worth! Meanwhile the reservations, the likes of which Alaska has none, are replete with poverty, casinos, and discount cigarette outlets!
Summer temperatures in AZ are as high as 120¡F, which, in its own way, is as uncomfortable as -60¡F in AK come winter. Once again we are struck by intriguing cultural richness so different from ours!
Hi Ho, Hi Ho, It's Off to Mexico!
One day we will visit the "Real" Mexico. Until then we find border towns interesting! The border town, while not an official municipal classification, is not considered representative of Mexican culture. Such towns as Palomas (adjacent to Marshall, New Mexico); Nogales (adjacent to Nogales, AZ); Sonoita (adjacent to Lukeville, AZ) Tijuana (San Ysidro, CA), and Ciudad Juarez (El Paso, TX) are magnets of opportunity and hope for Mexicans who want to get in on what they see as the economic miracle that is the United States of America. As such, border towns are curious frontier places.
In Palomas, the Federales (Mexican Federal Police) patrolled in armored personnel carriers and walked the streets carrying automatic weapons. In Nogales the atmosphere was more upbeat.
Adjacent U.S.- Mexican border towns are inextricably connected. For instance, about one year ago, when the peso devalued overnight and the Mexican economy virtually collapsed, the Safeway store in Nogales, AZ, closed within days! Meanwhile, the Macdonalds is still operating. This year the owner brought some 3000 Mexican kids across the border from Nogales, Sonora, Mexico, to Nogales, Arizona, USA, for a free Christmas dinner, warm jacket, and a present.
Somehow, crossing the Alaska-Canada border lacks the sense of drama crossing the US-Mexican border has. Beaver Creek certainly is not as, uh, colorful as Palomas or Nogales! OlŽ!
Within 15 minutes of walking across the border into Palomas we were accosted by a Mexican optician offering "special deals" on eye glasses. It is also legal to purchase pharmaceuticals (except narcotics), with or without a prescription, at la farmacia, and bring them back across the border, no questions asked. Alas! Narcotics seem to be moving across the border in spite of restrictions as Mexico overtakes Columbia as the major supplier of illegal drugs into the US.
Friends from border states tell us legitimate deals from Mexican doctors, dentists, and opticians are equal in quality to similar US services, at reasonable prices.
In Nogales, our guides, Fred and Diane, formerly of Fairbanks and now of Tucson, told us the merchants would show their wares and say "My mother made it."
Sure enough, within minutes of crossing the border the first vendor we saw showed us a blanket and said those very words!
Melody" "Is it wool? 100% wool? We want wool."
Vendor: "Oh, Yes! 100% wool, guaranteed!"
Melody, sampling by smell and touch: "This is not 100% wool."
Vendor: "It is not 100% wool. Some wool."
Surprise!
Roadside Observations -- How Fast is Too Fast?
The national speed limit has been raised to 75 miles per hour on certain freeways. It is estimated to contribute to the deaths of 10,000 people on our highways in the coming year. We are a nation of contradictions. Whatever you believe about the U.S. role in Bosnia, is it not odd that some Americans say that Bosnia is not worth the life of one U.S. soldier? Yet somehow as a nation it is OK to raise the speed limit to the point where we will kill 10,000 of our citizens for no point other than speed itself? (Never mind, that once again the U.S. is involved in a mission to ostensibly solve a centuries old problem in a culture totally not ours. Never mind, said problem is in the back yard of European countries who are doing less than we are about the problem. Never mind, we think we can solve this ancient conflict between millions of people in a couple of years with 20,000 soldiers! Okay! Never mind! Raise the speed limit!)
The Phoenix area has some 2 million people in it, counting Greater Phoenix, Tempe, Mesa, Apache Junction, Cave Creek, Carefree and other suburbs. It sprawls like few places we have seen because land is relatively cheap (everything is relatively cheap), and there is demand in this part of the country where an aging national population is looking for warmer climes. Phoenix is cosmopolitan and interesting; to wit: We were driving through Mesa and there was a sign: Psychic Fair. We decided the best way to attend a "Psychic Fair" was to agree to go, then keep driving (See, if they were really psychics, they'd know we enjoyed ourselves). We went to one of those HUGE swap meets instead, which is like going to a county fair, without the horse shows and bull riding (lots of bull, no riding).
"By the 'way" February, 1996

"Full time" on the Road
Or, What's It Like to Live in an RV?
RV parks are almost invariably located in areas where the land is relatively inexpensive. The interstate and the railroad, one or both, are almost always neighbors. Only occasionally are RV parks idyllic country settings. Those that are, are either very exclusive, or off the beaten path and difficult to access with a large motorhome.
In Yuma, for instance, the railroad is about a half mile north of the park. The ground shakes when the freights go by - and the southern rail route is heavily traveled. Interstate 8 is just beyond the railroad tracks, while "Business 8" is directly in front of the RV park. The roar of commerce is a daily, hourly, event.
In cities like Phoenix, in-town RV parks are often adjacent to busy multi-lane boulevards. There are other parks, to be sure, but they are off the beaten path, generally rundown, and occupied by full time residents who have let their mobile homes deteriorate and their yards become cluttered.
The only consistent exception to this pattern seems to be the planned community. In these pleasant settlements, usually located far from the city center, are permanent "parks" which feature park model (single wide) and double-wide manufactured homes. These are modular homes which, as noted last year, defy the "Our Lady of the Perpetual Quonset Hut" image of the trailer parks of old. But these planned communities do not generally allow RVs. There is a gap between the comfortable park for the full time RV traveler, and the planned, up-scale residential trailer home park. The gap is being filled by "resorts" which sell "memberships" and look a lot like time shares, which we have determined do not represent an investment -- never have, never will.
The world of the full-time RVer is the world of gypsies, most of them in their 60s and 70s and retired, who enjoy the warmer climates and travel. These Bedouins of the interstate are energetic people enjoying the fruits of successful careers. Most are from the Northern Tier states, Canada, and Alaska. They range from winter travelers who live in their permanent northern homes in the summer, to people who have sold everything and hit the road full time in a motorhome, trailer, or fifth wheel.
In the world of RV, we are considered "the kids." We do not have the same enthusiasm as our seniors for horseshoes, shuffleboard, bingo, and day trips to the casinos in Laughlin, NV. Then again, the people who live here all winter have a strong sense of community. They reserve their spots in the spring for the following winter. Reservations are only accepted for the entire five months of winter. Those of us who want just a month or two have to take whatever is available when we arrive. Still, the rates are reasonable: $145-$215/month, plus power.
For communities along the I-10 and I-8 corridors, snowbirds are an important part of their economies. They treat winter visitors well, just as northern states treat their visitors - except winter visitors here become participants in the communities for a good part of the year!
Home is where the repairs are Just like a regular house, "home improvements" never stop in an RV. There are so many moving parts!
Some are great fun like adding a sun room, selecting a portable barbecue, installing computer networking, etc. Add to that the usual stuff like appliance repair, engine tune ups, general maintenance, and then figure that everything is done on the move. On the road we can't just call our favorite plumber, carpenter, electrician. We have to constantly research services, prices, and things that in our hometown we take for granted. Luckily we have the time. It is a major feature of life "By the ÔWay ... " and we are enjoying it!
It is like living on a boat, sort of. But having lived on a boat for a spell I can tell you an RV is not as damp! And, while you can go where you want in a boat, you are restricted to water -- rivers and coastal areas -- so you see less country with a boat.
Observations from the Road
There are age restrictions for some RV parks and resorts. We've heard about HUD regulations relating to age discrimination. Apparently there's a loophole. Anyway, we inquired about a couple of senior RV resorts but we got carded! "Sorry kids, 55 and older only." So, who was it made those fake IDs in high school?
Life in a small space makes decisions for us which lead to ironic conclusions. For example, struggling to avoid filling our small home with "treasures", which abound on the road, we conclude: All knick- knacks collect dust at the same speed. Knick-knack avoidance!
Just after we moved into our current RV last spring Melody was crunching some numbers. Then she looked up and said "This place has more floor space than our homestead cabin at Gold Creek (Alaska)." That cabin housed a family of six, plus house pets year 'round for many years!
Life in the Low Desert
This year we have settled for a couple of months in Yuma, AZ. It is a small community, probably a little larger than our home town of Fairbanks, AK. We are situated in the Yuma Desert near the Colorado River, in the very southwest corner of Arizona, elevation about 150'; much different from the high desert around Willcox, AZ, southeast of Tucson where we spent last January/February. From here we are less than an hour's drive to Sonora and Baja California, United Mexican States, and just minutes away from California, USA.
Yuma provides easy access to the Imperial Valley of southern California, USA, made green by the intricate dam system crowned by Hoover Dam near Las Vegas, NV. Hoover and more than a dozen others have harnessed the Colorado River and truly made the desert bloom. This is the peak of the growing season here and lettuce departs here by the truckload daily. A 5-gallon bucket of citrus fruit (lemons, oranges & grapefruit) picked yourself, is $2. Large delicious dates are grown in nearby Bard, CA, and sold at the warehouse in Yuma for about $20 for 15 pounds, pitted!
We have an electric juicer on board; fresh citrus juice is one of our daily pleasures. But here's a tip: You can set oranges in the sun to ripen (we all knew that) but once you juice a green orange, you can't set the glass of juice in the sun to "ripen." Hmmm.
It is much hotter here than in the high desert, with nights in the 40s and days as high as the 80s. Willcox is more than 4000' above sea level and much cooler. In fact in the high desert snow is not unheard of, and ground water lines in RV parks frequently are subject to freezing.
From Yuma, the border towns of San Luis, AZ/San Luis Rio California (RC), Sonora, Mexico, are just 21 miles south on SR95. San Luis, BC, is a pleasant town without the crowded, frantic, and exciting marketplace as in Nogales, Sonora, Mexico. We found the community had a "small town feel" a few blocks from the hubbub of the border itself. The populace does not seem as cynical and they go about their business without the hucksterism of other border towns. Not once were we told by vendors "My mother made it!" There were fewer opportunities to haggle over prices, but a greater sense of stability. Closer Yuma is Los Algodonas. It has a border town feel to it, like a mini-Nogales. We like it.
Liveware Upgrade
Computers and Human Development
[The computer is a convenient metaphor for the very thing that created it: the human mind.]
The opportunity to explore the highways and byways of America lends itself to that curiously human activity - introspection - the luxury of letting the mind wander where it will. For me it is similar to purging the hard drive of a computer, installing an upgraded operating system, then defragmenting and reorganizing files which have been resident for years but suffered from neglect. Computer users know that some software must be updated from time to time - sometimes with annoying frequency. Neglect updates at your own peril; a lot like real life.
Our road trip reminds me of a pilgrimage, except that traditional pilgrimages were directed toward specific goals: a shrine, a physical place. Our "quest" seems less directed than the pilgrimages of old, but in reading about such quests in both academic and anecdotal literature, I see a parallel between the historic wanderings of early seekers, and our opportunity to reformat and update our life systems. This has been made possible in no small measure by seasonal employment. If you like metaphors, my current employment is also an anchor since the travel industry has become somewhat of a preoccupation in my new operating system. A common thread of our travels is inquiry into how other operators do what we do in Alaska.
Travel enhances learning, allowing the human operating system (stick with the computer metaphor) to reprogram, retain, and purge data in ways that help files reintegrate and work better. Just as some commercial software packages are able to update routines "on the fly" as the demands of the user change, some people are apparently able to upgrade their operating systems on the run. For others there is "down time" while files are updated.
Learning the various protocols designed for computer operations has given me more ideas on how to organize my own data, and develop a more effective liveware interface.
OK, enough tech talk and metaphors and stuff. Let's have some fun!
By the 'way
March 1996
Friends and Adventure in the Desert Southwest
Living in Yuma for two months we have been firmly in an area where Snowbirds (a term of endearment) rule. It is fascinating to think that as we all travel the geriatric highway, it leads somewhere; and Yuma seems to be one of the popular destinations.
And why not? It is generally warm here. The TV weatherman (Oops! Meteorologist) says things like "It will be unseasonably cool in the desert southwest tonight with temperatures reaching the 40s; and chilly winter-like temperatures getting to the upper 60s tomorrow." They do give frost warnings for the citrus farmers but it has been as warm as 85 and even 90 this winter.
It seems there are more out-of-state plates in this area than there are native Arizona vehicle plates. The newspapers carry notices of picnics and other events for Alaskans, Washingtonians, folks from other states and those from larger towns up north, including Canadians.
There was an Alaskan Picnic where there were Fairbanksans and some of contacts from our family's days in Seward (1950-66). Memories. I ran into Betty Bryson and her husband LeRoy. Betty worked for my dad when he had a medical practice in Seward. When I was a kid she was one of the people who dispensed my weekly $2 for shoveling snow from the sidewalk in front of dad's clinic. Her husband was a pilot-guide. I recall an indirect encounter between LeRoy and my brother, Jon, when we were moose hunting near Swan Lake some 25 miles northwest of Seward. It was 1962, I think. I was 14, Jon 15; his turn to shoot the moose. Opening day of moose season. We'd gotten up early to scout the valley from a hilltop. We spotted a nice bull and Jon headed up the valley in a flanking move while I maneuvered up a draw should our quarry bolt. We maintained visual contact for a while and then Jon crept into the underbrush to get closer. Moments later he fired. A single 220 grain slug from a 300 H & H magnum brought down over 1000 pounds of roast, steak and hamburger. (Ed. Note: I found this old picture taken of Jon just before the hunt!)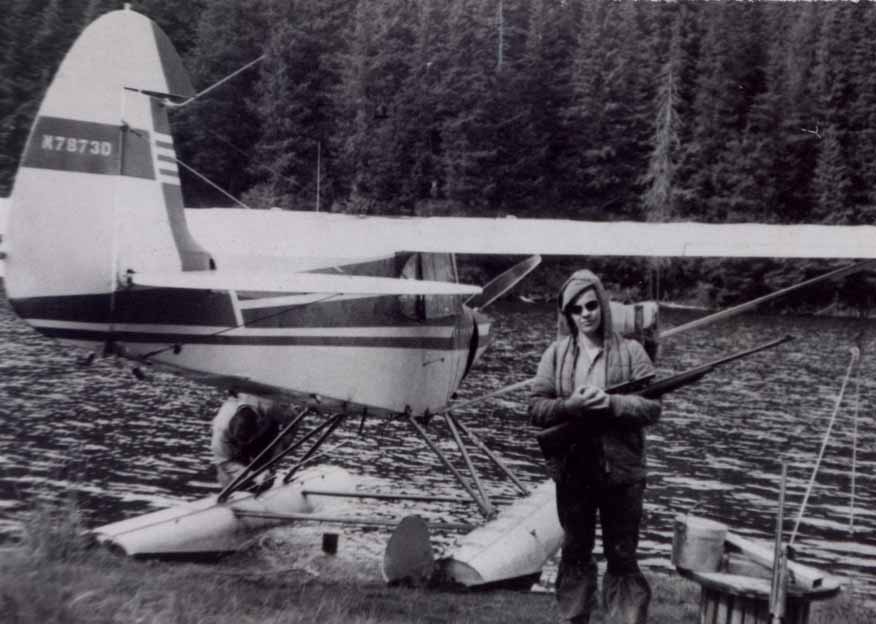 While I worked my way toward the sound of the shot, Jon arrived at the still-warm carcass and realized I had the skinning knife he'd planned to use to "bleed" the moose. As luck would have it, however, another fellow showed up. Not one to pass up an opportunity to recover from an equipment shortage, Jon the Gregarious asked the unheralded arrival if he, Jon, could borrow a knife, you know, to bleed the aforementioned mess o' fresh meat.
Hah! Turns out the fellow was mad as hell - Jon had shot the moose out from under the other guy, who was a client of LeRoy Bryson and was stalking the same critter. Who knew? Ya still gotta get up early if ya wanna out-stalk and out-gun Jon the Gregarious.
That's how I remember the story 34+ years after it happened! At the Alaska Picnic there were also folks from the Kenai Peninsula who contacted me to name off their kids whom dad had delivered. Memories are made of this.
If you like garage sales: There is a "Swap Meet" every February at Quartzite near the California-Arizona border. The event engulfs what is normally a small town cum truck stop where I-10 and SR95 intersect. The place has numerous commercial fast food outlets (Jumbo Jacks, Whoopers, Big Macs), truck stops, and a huge white letter "Q" - for the local high school - painted on the hillside overlooking the townsite. For days on end it is a snowbird magnet. You can buy anything from guns to biodegradable toilet paper. One million people pass through the area and tens of thousands camp in their RVs within a 10-mile radius. It is wild and worth the stop if you like that sort of thing.
Scar Tissue
Most policies and regulations are the result of something going haywire, followed by someone, frequently a faceless bureaucracy, trying make sure "crap like that never happens again, do you hear me?!" or something. In the presence of such dense, fibrous matter I sometimes wonder what nasty thing transpired to create that awkward bit of inflexible connective tissue? To wit: On a weekly basis I like to review selected stocks in the Wall Street Journal. The WSJ and other periodicals of that ilk, Investor's Daily and Barron's, are in demand at the Yuma Public Library Reading Room. When the other two were taken one day I asked the lady at the periodicals desk for Barron's. The response: "You'll need a picture ID for that." Whoa! Scar tissue! Seems like someone is pilfering the Barron's. Wonder what sort of ID is necessary to read Scientific American!
Another town, another sternwheeler
Although only a fraction of the water of the Colorado River now reaches Mexico, there was a time when sternwheelers could go hundreds of miles up stream and riverboats played a large role here (c. 1860-1916). None of the old boats survive, even as museum pieces. But a couple of years ago a Yuma couple, Capt. Ron Embrey and his wife Beth, built a 49-passenger sternwheeler to operate on the Colorado River behind the Imperial Dam. The Colorado King is a unique vessel with a split sternwheel which can be turned for steering. Capt. Ron's operation is of special interest to us since he seems to be following, by chance, in the footsteps of Capt. Jim Binkley of Fairbanks who also built his own first excursion sternwheeler - in the '50s. Capt. Ron invited us for a ride, which was delightful, providing insights into what Capt. Jim went through almost a half century ago when Alaska tourism was in its infancy and Alaska was a far away Territory. Capt. Ron told us bus loads of passengers on his boat have raved about the Binkley family and Discovery III, the boat I work on in Fairbanks. That is way cool.
Dunes or drifts depends on your latitude:
About 25 miles west of Yuma, in California, is the Imperial Dunes Recreation area - dune buggy heaven!. This is an area of desert as you saw it in "Lawrence of Arabia", sans camels. Reminiscent of snow covered Alaska tundra. The similarities don't stop there. The sand gets into everything and in its own way can be as frustrating as driven snow. But the sand is warm, which is a pretty cool difference!
Last issue this season?
Back to Alaska in April
What a year! Alas! Melody was back in Alaska in February following the death of her sister's oldest son, Peter-Eric. She was able to provide emotional and scheduling support for sister Gay. It is a three-hour drive from Yuma to Phoenix; then 8 hours flight time to Anchorage. I held down the fort with our two cats for a week. I'm getting to know these characters!
Like last year, this year's travels end in April. We will store the motorhome in Seattle and fly back to Fairbanks on April 3. Since we will be returning by air this is likely the last issue of "By the ÔWay" this season. We will be settled in our condo until mid-September when we hope to do it yet again.
Which raises a question: Do you want to keep getting this report from one of the battle fronts of Middle Age? We intend to keep producing it. I for one enjoy the technology and discipline involved in summarizing what we are doing. Melody loves proofreading it. But if it is cluttering up the mail, by all means let us know, no offense taken if it is not meeting any of your felt needs!
Next season:
We currently plan to spend our time Out West next winter. This will allow us to visit states which we have dashed past to reach the East Coast. This will mean not seeing relatives and friends back east. More importantly, however, my father turns 80 at the end of next September and in spite of the fact that he may protest such sentimentality, we plan to be there (family reunion?) for that singular event! Then we will explore Utah, Montana, Wyoming, Colorado, etc.
If we have the nerve, early '97 will find us RVing the Baja Peninsula. Those are our current plans. Wanna come along -- vicariously?
See you then!