Season Seven: China, 2001

The adventure comes to an end with this log about our trip to China.

The RV had outlived its usefulness and was sold the following spring.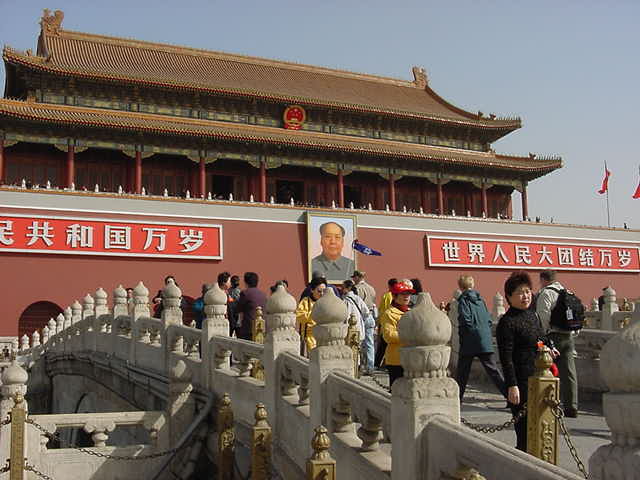 RV's are, after all, steadily depreciating equipment with hundreds of moving parts. Look around and you will see motor homes, trailers, and fifth-wheels parked in yards with weeds growing between the wheels. The owners will proudly proclaim "I don't have to rent an RV, I own one!" It has been our experience that if we are not living in a recreational vehicle or using it for at least 120 days a year it is deteriorating faster than it should, or someone is paying a very high price in other ways to maintain it. With that rule of thumb in mind, we bid farewell to RV-ing, for now, and moved on to other things.
"By the 'Way"
Fall 2000
Unto every season there is a purpose...
The 2000-2001 season was a wild ride with numerous family issues and personal tasks requiring attention -- none of which are relevant to our travels. They required a substantial time commitment, and staying settled for a while. We had a great time "camping" among the giant saguaros at the base of the Catalina Mountains near Tucson. We hiked or biked daily in the desert and enjoyed the animal life, a variety of cacti, fellow travelers, and reading dozens of novels. We felt like we needed to catch our breath and that was what this winter was been about.
Exciting things never get away from us, or us from them. One of the storage compartments in the RV had a fire! We got back to the RV one evening just in time to put it out. Damage was restricted to an electrical junction box. THAT was a close call! Aside from being annoyed, the cats were not bothered by it in the least!
The holidays brought a second generation digital camera and that meant better quality to our pictures. For which were grateful since 35mm was not an optiion and the first generation camera had long since also outlived its usefulness.
Click on the pictures below to enlarge.

IF you enlarge and view a picture and the text disappears, hit the "refresh" button in your browser. The text and pictures go down the page about the same distance, with slightly more pictures than text.)




Basic map of China


From our modern hotel, major arteries through Beijing.


The tomb of Mao Tse Tung in Tienanmen Square.


Detail of Mao's tomb.


Inside the Forbidden City


All beautifully maintained woodwork with nary a screw or nail.


These litle creatures were carved and placed there to protect the occupants


A little Mao! Chinese families tour the Capitol city too!


Chinese Opera: The story was easy to follow and very colorful.


The Great Wall is one of the few manmade objects which can be seen from outerspace! The dust hindered visibility. It was "that time of year" and came from a storm in the Gobi Desert.


The Temple of Heaven, centerpiece of a major cultural area.


A cultural evening included dinner and demonstrations of dances from various regions of the country.


The Pearl Market basement was as interesting as the actual area where pearls were sold!


Liu Na holds up a souvenir Mao watch. Offered at "Make a Friend" price.


This litle boy was eating a Macdonalds hamburger in the Silk Market. What would Mao think?


Melody negotiates to purchase a small handmade silk rug.


Our tour included a primary grade school.


This shy little girl was not about to miss out on the visitors!


They say the wine is made with a snake in it. Melody tried out "snake wine."


Rickshaws and small motorcycles haul lots of freight and people.


If they stopped making bicycle chains this place would be in trouble.


A career in trouble? A staple of street side business is bicycle repair. Our escort said the official government stance is that these kinds of transportation are clogging the roads.


Here we are with our "ride".


Break time! Pulling couples through the hutongs is hard work!


Street vendors were everywhere and the items were lovely -- fans, hats, blankets, table cloths, kites. These items, being light and often collapsable, also travel well.


The government discourages but really can't stop street vendors.


Melody, our new friend Li Chun Ying , and our guide Hong (l to r). Li Chun Ying allowed us into her small flat containing the bare necessities -- and a nice computer. She gave me her son's e-mail address at school. We stayed in touch for about two weeks but lost touch when the Chinese government shut down the Internet during the "spy plane incident".


In some ways dance is culture.


A evening of theater, dance and variety was exceptional. This lady had trays of stacked stemware balanced on hands and feet, plus a balanced glass on the stick in her mouth. She moved, rolled over, and stood without dropping a one!


The timing, lighting and costumes were fabulous and the performers were extraordinary.


Huge buildings cover the thousands of items being excavated and restored at the site of the terra cotta warriors in Xian. The full army, with no two alike, including horses, were fashioned from clay.


The lost terra cotta warriors of the third century BC were discovered by a farmer near Xian. Enemies of the Emperor Qin tried to destroy the tribute he made to himself but hard work is now revealing this amazing artifact anew.


Terra cottta horses are among the 8000+ objects which Emperor Qin had built to himself.


This brass carriage has been carefully restored.


It is said that "some farmers", "two farmers", or even "a farmer" discovered the buried army of Emperor Qin while digging a well. One story says "Farmer Yang" made the discovery, and this is perplexing because there are many farmers named Yang in the Xian region. So, at the site of the dig, this was the man autographing books. I have superimposed the signature he used in the lower left.


China Lite: Beijing and Xian China in 10 days

EDITOR'S NOTE: We spent 10 days in the People's Republic of China at the end of March, 2001, arriving back in the US about 36 hours before the now-famous "spy plane incident". We were with a tour so we had an American escort, as well as Chinese escorts and interpreters. We spent six days in the Capitol, Beijing, and three days/2 nights in Xian, home of the Terra Cotta Warriors. We have included small pictures of many of the sites, click on them for a larger view -- including those in our banner.

International posturing not withstanding -- and US military and technological superiority, Chinese numerical superiority, and vast cultural differences between our countries -- China is a must see. In fact, BECAUSE of those reasons, it seems important that we try to understand this fascinating and ancient culture. China is a nation on the move. Travel literature emphasizes China is a Third World country. Indeed, much of the commerce internally takes place in "unruly" outdoor markets. Bicycles and rickshaws are still common form of transportation for people as well as freight. But a market-driven economy is taking root in this Socialist State. There are, amidst the Third World markets and countless high rises and Hu Tongs (residential alleyways), commercial malls of almost unparalleled international luxury.


Spy v spy
Regarding the so-called spy plane incident, although our cultures are miles apart in interpreting and assigning meaning to things like apologies, it is appalling that the world's only Superpower, and one of the world's truly ancient cultures, cannot admit to tomfoolery in the spy game. It is what it is. Both sides have a duty in this. But the brinksmanship of the Cold War dies hard.

The result, instead of embarrassed looks and shrugs, is that Little Bush is rattling his saber over the independence of Taiwan. Then China rattles its saber. Poof! We are back in the 60s!

Our articulate guide, Hong, showed us Beijing. She spoke eloquently of how conflicted many Chinese feel over Chairman Mao, Father of Modern China. These days Mao is reviled for the Cultural Revolution (Remember the Red Guard?) which left a generation of Chinese uneducated. Maoist policies increased China's population from a half billion or so to 1.3 billion in less that a half century. Today there is a one-child-per-couple rule. In the cities, violation of this rule is a crime; in the countryside, a civil offense. Enforcement seems Draconian by Western Standards, with stories of cohersed abortions and other human rights violations. Given the pressures of such factors as population, who are WE to say their brand of governance is worse than ours?

The question arises:
How should the US deal with China? If you have a neighbor who violates the covenants of the neighborhood, is it better to yell obscenities over the fence and be seen glaring through the hedge? OR invite them to participate in friendly activities? President G. W. Bush (Lite) claimed in news interviews last month the US would go to war over Taiwan. In retrospect, he claims the US will continue a 25-year policy of "strategic ambiguity". Personally, I don't think he can put this particular toothpaste BACK in the tube. With any luck, the multinational corporations will prevail and the US and China will realize economic competition is better than war. That's not an ideal situation but it is better than shooting at each other.

Hypothetically, now...
Geopolitics and ideology aside, how would the US react if an island State (Hawaii comes to mind) became a "Break Away Republic" from the US? And then, a foreign government (say, China) decided to support that break away state using military force if necessary? Makes you go "hmmmmmm...."

China will out. Based on population alone, the momentum is obvious. It has been said, if you want something made, give a copy to the Chinese and in 90 days they will be capable of producing as many as you want, cheap. (Gee, does that include the Lockheed Martin EP-3E Aries II -- spyplane -- and/or its contents?)


Speaking of making things
Behind the Silk Market on Jianguomennen Street, a few blocks from the International Trade Center, you can purchase bootlegged copies of US DVD movies, music & software CDs, and almost anything else digital, for pennies on the dollar. This, in the shadow of a U.S. Embassy! "Salesmen" approach tourists and ask if they are interested. If "yes" then you follow them into a back alley; or into a store, which eventually leads to a back alley. The latest version of Adobe Photoshop is offered for $8 (PC Version). Microsoft's operating system is available for about $8 per CD. Alas, there is not enough demand for more elegant and efficient Linux or Macintosh Operating Systems for them to be available cheap (as if we would actually BUY bootlegged software anyway). It has been said that the Chinese military got some of its funding from the illegal sale of copyrighted software. As China's civilian government tries to enter the global marketplace it has cracked down on such sales, hurting the status of the military, and its funding.

Silk Alley is a fascinating area with hundreds of small booths similar to those in flea markets or fairs in the US. There were "copies" of name-branded watches (Rolex, for instance) for a few dollars; stainless steel "multi-tools" (similar to Leatherman), clothing (Gap, Levi) and handbags (Gucci, Louis Vuitton, Chanel), all extremely cheap. My own suspicion is that some name brand items are produced in China, and "seconds" are sold on the street rather than destroyed or repaired.

For local items, we visited factories for cloisonne production, jade carving, lacquer work, silk clothing, and carpets. Seeing the processes, one can understand why those items are expensive, the finest items could be priceless! But the artisans and craft workers consistently earn just a few dollars a day.

The Pearl Market was a 4-floor shopping area, roughly a half a city block square. Many tourists like the fourth floor for is many types of fresh water pearls in all kinds of beautiful jewelry. We found the other areas of the complex equally exciting. It is where the locals shop. We loved the fish market, humming with energy. We met a Chinese man there. He was curious about our picture taking. When we mentioned we were from Alaska, he sang a few bars of Johnny Horton's 1960s hit "North to Alaska". Somehow he escaped the Cultural Revolution!

We visited the Great Wall, one of the Wonders of the Ancient World. It of course was built to keep out the Mongol hordes, and didn't work all that well. It is of such magnificence it is difficult to even describe.


Tian'anmen Square
This is the world's largest public squares, covering more than 40 hectares. (Red Square is Second; and the one in Mexico City is third. We've seen them all! The Forbidden City tour reminded us that the Chinese culture has been around for 13 dynasties, most of which lasted longer than the United States has been a country. There is deep national pride in a culture that is rich in tradition and history. Curiously, while other cultures, like the Mayan and the Egyptian, concede that slave labor was used in those ancient times, our Chinese escorts never mentioned what kind of labor was used to build the Great Wall, numerous huge palaces, and countless temples. One assumes they were not highly paid, though many were obviously highly skilled.

Part of our tour included a rickshaw ride through the Hu Tongs, or alleyways, which were very much a part of residential Beijing before the Cultural Revolution, and the redistributing of urban land to peasants. Urban redistribution was done by letting peasants live in small houses built in the courtyards of the wealthier city dwellers. The Hu Tongs are what China must have been like in the first half of the 1900s; before the development of uncountable high-rise apartment buildings which are so common today. We met a lady there who invited us into her home. We had planned for this and had a little house gift, a green apple scented candle, from the US for her. I asked before giving it to make sure there was no negative symbolism conveyed to our hostess. Luckily the candle was not white; that is a sign of mourning!

We had searched for a small house gift in the US for this visit. Oddly, most things in the price range which might have been appropriate to take from the US, were MADE in China! Anyway, Li Chun Ying was pleased with her candle and pulled me aside to give me a Chinese date book. It has all the days of the week and months in Chinese. She also gave me her son's e-mail address and we have exchanged e-mail. I e-mailed him a picture of Melody and his mother in their small home. He has invited us to dinner which his mother will make for us, he promises!

This sort of people-to-people contact is what matters, as much or more than "diplomacy" of the type we have seen in recent weeks. What is it about governments, that they know, distrust and spy on each other, and yet they can't bring themselves to say "Oops!" when caught! Geesh, you guys, grow up!


Wonders of the World
Our major "side trip" in China was to see the Terra Cotta Warriors at Xian, Shaanxi Province, about 800 miles southeast of Beijing. We flew there on China Northwest Airlines. The "Terra Cotta Warriors" is a "clay" army of over 8000 soldiers in various battle dress, as well as horses and chariots. It was discovered in 1974. A farmer was digging a well and brought up a part of one of the clay soldiers. It was known that these were in the area but they had not been found. Today there are four huge "pits" and the recovery and restoration work continues. Today the farmer is not rich, but he is famous, and signs picture books at the souvenir store. Xian was one of the ancient capitols of The Middle Kingdom, as China is sometimes known. It was on the Silk Road and as such has been an international city for hundreds and hundreds of years.


Rubber-necking aside
The tour was exceptionally well run. It was escorted from the US by our friend Bob Neubauer, who brings tours to Alaska in the summer -- and was our escort to Russia. We enjoyed the pace, which provided full days, but plenty of personal opportunities to go out on our own. We spent a half day exploring the Silk Market alone, no interpreter. There, we met Liu Na, who ran her own shop. We joked and had fun and she sold me a pocket watch commemorating Chairman Mao's rule of China. As we haggled, I tried to drop the price, she tried to keep it up,. As I surrendered to my own frugality and started to walk away, Na said "OK, OK!! Make-a-friend-price!" Meaning she would not make money (yeah! Right!), but would make a friend. We took pictures and laughed and exchanged addresses.

WE are there!
We spent the better part of another day walking unescorted further down Jianuomenwai Street (an extension of the street where we visited Silk Alley). There we found a huge mall which featured numerous European and US outlets including automobiles from Germany, Tony Roma's Ribs (US) and the kind of commercial mall you would find in and large Western city. In one location we found a Starbucks, Baskin-Robins and Macdonalds. Our escorts said that official policy is to encourage automobile ownership. Bicycles are crowding the streets and official Chinese policy now is to encourage "consumerism", they said.

The food was always excellent. It was Chinese food (well, there it is just called "food"). Sometimes our guides "read" the group and opted for Westernized Chinese. Other times it was whatever the locals were eating (well, we did not order the snake or turtle killed at our table, or the braised suckling dog). The acrobatic, operatic and cultural programs were outstanding in their production values. Even without a common language, with a small summary of what we were seeing it, it was comprehensible and interesting.

I took about 1100 digital pictures, and with judicious daily editing managed to pare the total to about 600. About 180 fit nicely into a short slide show.

I posted a hand full of my shots online at Webshots.com and within a few days had thousands of visitors. Of course this was immediuately after the aforementioned and now infamous "spy plane incident"!




EDITOR'S NOTE: While this was written about five years ago, Beijing was already promoting the idea that China should host the 2008 Olympic Summer games. An ironic sidebar to that is that while the Chinese have historically pirated software and other proprietary things with little ado from their government, there is now official outrage that some Chinese are pirating the Chinese Olympic Logo and selling such items as hats and shirts at a discount!

Finish this sentence: What goes around ...

Travel Well!


The End of TRAVEL LOGS